Despite growing up as the child of two Bay Area hippies, there wasn't a lot of Pete Seeger's music in our house when I was a kid.
We had one album - the Children's Concert at Town Hall, recorded in 1963. Had it on reel-to-reel tape which later got dubbed to cassette when we got a new car and my father spent a ridiculous amount of money (for those days) to put a Radio Shack combination tape player/AM-FM radio in it. (We never had a car with an eight-track player in it - I missed that bit of the '70s as well.) Other than that, my mother would occasionally sing "Little Boxes" as we drove through the vast expanse of Doelger homes in Daly City on the way to San Francisco, and we occasionally saw him on shows on PBS.
It wasn't until I got to college and started dating a girl whose mother was a serious folkie that I started learning more about Pete the activist, Pete the conservator, Pete the man who'd sung with the Weavers (who I'd also never heard before that) and Woody Guthrie (ditto). I was fascinated. Plus, I learned that songs I'd sung at summer camp or heard performed by many other artists had been either written or arranged by Pete Seeger. "If I Had A Hammer" had been a particular favorite at my camp - the camp songbook had a very energetic arrangement.
Then I learned more about his family - how his father had been an ethnomusicologist who was particularly interested in regional songs of the United States. How his siblings had also gone into music, with varying levels of popular success.
Given his background, I don't think he could have been anyone other than he was.
So long, Pete. It's been good to know you.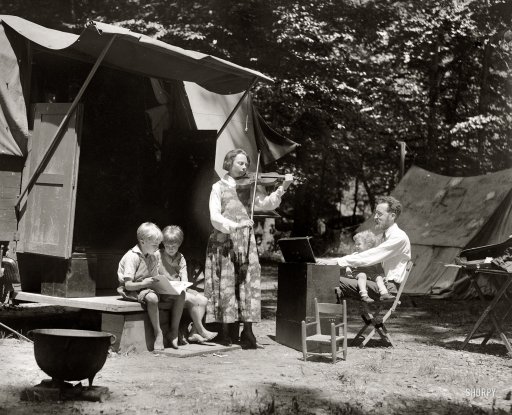 (Photo of the Seeger family in 1921 - Pete's the curly-headed kid on his father's lap.)
Tags:
memento mori
Current Location:
Santa Cruz
Current Mood:
pensive
Current Music:
How Can I Keep From Singing?
,
Pete Seeger
,
Pete
(1996))